Although New York's population is over , most citizens reside in the NYC metro area, leaving much of the state relatively free of large communities and blessed with beautiful scenery. Retirees can choose to live in more populated cities, such as NYC and Syracuse — both of which are in the nation's — and still be only a short drive from gems such as Lake Placid and the Catskills. The state also helps older residents hold on to more of their money, as it doesn't tax Social Security benefits and offers a generous .
Independent living is a popular choice for relatively able-bodied seniors who want to reside in communities designed with older residents in mind. Living spaces can range from apartments to single-family homes, and there's typically a clubhouse that provides opportunities to socialize with others in the community. Many also have spa facilities and offer additional services so residents can enjoy more leisure time.
This guide compares the costs for independent living communities in New York and the surrounding states. It also contrasts independent living costs with other types of senior care and lists some helpful resources for retirees.
How Much Does Independent Living Cost in New York?
Note: There currently isn't authoritative data on the average cost of Independent Living Facilities nationwide, so instead, we use the cost of Assisted Living to estimate it. Since the cost of Independent Living is typically 30-40% lower than the cost of Assisted Living, the numbers below were calculated by subtracting 35% from the cost of Assisted Living as reported in the .

The average monthly fee for independent living in New York is $2,977, which is only $52 above the national average and more affordable than every neighboring state, except Pennsylvania, where the average is $2,665. Seniors considering the surrounding states may need to budget approximately $3,334 for Connecticut, $4,225 for Massachusetts and $4,222 for New Jersey per month.
​​​​​​​


The Cost of Independent Living in New York's Top Cities
The cost of independent living in the state varies greatly, from the below-average fee of $2,454 common in Rochester to the much more expensive $5,470 in Watertown. Ithaca's costs aren't far behind, at $5,249. More affordable options — although still above the state average — are in Buffalo, where the average fee is $3,082, Syracuse, where the norm is $3,051 and NYC, at $3,738.
​​​​​​​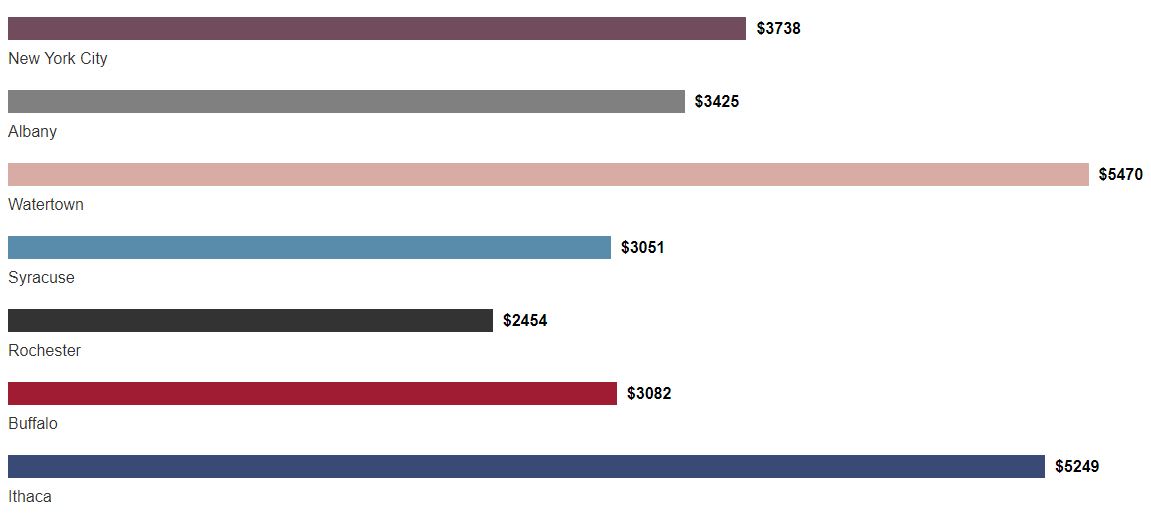 The Cost of Independent Living vs. Other Types of Care
With an average fee of $2,977, independent living can be an affordable choice for seniors who don't require assistance. For those that do, fees can be affordable or expensive, depending on the level of care needed. For example, seniors able to attend an adult day health care center can get daily assistance for around $1,907 per month, whereas those who need 24/7 care can expect fees in the region of $12,775 for a semiprivate room in a nursing home. Retirees able to reside in an assisted living facility can get care and accommodation for approximately $4,580 per month. Seniors who prefer to remain at home may need to budget $5,339 for homemaker services or $5,529 for home health aide services.
​​​​​​​


Free Independent Living Resources for Seniors in New York
New York's seniors can access many free resources that can assist them. Those listed here help elders obtain legal advice, prepare tax returns, understand insurance applications and more.
Service

The Office for Aging can connect seniors with multiple programs and services across the state. The scope is wide and includes help receiving benefits, guidance on state health insurance applications, support with planning for long-term health care and opportunities to volunteer in the community.
The New York State Division of Veterans' Services advocates for veterans and their families. It can help them access the state and federal benefits they're entitled to. The division also connects vets in need of health care with their nearest VA hospital or clinic.
The Legal Aid Society is a social justice law firm operating across New York City that can help with matters of civil and criminal defense law. Its civil law practice specializes in elder law, disability-related support and public benefits assistance. The firm can also help seniors whose cases involve consumer law and health law.
The Department of Taxation and Finance's website provides detailed information for seniors who need help preparing their taxes. It also has links to organizations operating throughout New York State dedicated to helping the elderly organize and file their tax returns. The two main support functions are VITA and TCE, both of which are staffed by trained volunteers who offer free advice and support. Facilitated Self Assistance, a state program for those who don't need hands-on help, is another option available via the site.
The New York Foundation for Senior Citizens is a nonprofit and nonsectarian organization that helps older residents throughout the five boroughs lead more comfortable and dignified lives. It manages a wide range of support services, including case management, crisis intervention and free transportation. It also operates senior centers that provide numerous programs designed to improve seniors' physical fitness and mental well-being.
COVID-19 Rules and Restrictions for New York Independent Living Communities
The following rules and guidelines were obtained from , as well as other state-level government sites. Among others, these rules apply to independent living communities and assisted living facilities.
This data has been most recently updated on 2/1/2022, but keep in mind that COVID-19 is a rapidly evolving crisis, so all of the below information can change at any time. For additional questions and up-to-date information, you can contact your loved one's senior living facility or your local Area Agency on Aging.
​​​​​​​
Visiting Loved Ones
Can I visit my relative in person if he/she wants emotional support from me?
Can I visit my relative in person for end-of-life compassion care?
Will my loved one be required to self-quarantine after I visit him or her?
Do I need to wear PPE and/or a cloth mask if I do visit my relative in person?
Are Hairdressers and other non-medical contractors still allowed in senior living facilities?
Does the state recommend or require that senior living facilities assist families with setting up virtual visit alternatives?
Are visitors being screened for elevated temperatures?
Are visitors being asked questions about health, travel, and potential virus contact?
Outings and Group Activities
Are residents allowed to leave the facility for non-medical reasons?
Are residents of senior living facilities who leave and return required to self-quarantine?
Are senior living facilities required to cancel all group outings?
Are residents still eating together in the dining hall?
Are facilities still allowed to host group activities within the community?
Safety Measures for Staff & Contractors
Are staff members and contractors being screened for elevated temperatures?
Are staff members and contractors being tested for Coronavirus?
Are staff members and contractors being asked questions about health, travel, and potential virus contact?